DEPECHE MODE : SPIRITS IN THE FOREST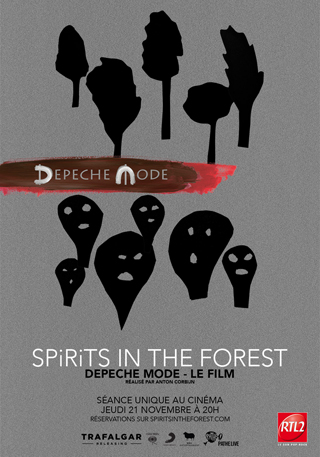 | | |
| --- | --- |
| Original Titel | DEPECHE MODE : SPIRITS IN THE FOREST |
| Dauer | 95 |
| Zutritt | 10 (10) |
| Regie | Anton Corbijn |
| Genre | Documentary, Music |
| Produktion | 2019 Frankreich |
| Verleih | Pathé Live SA |
Konzertfilm über die Abschlusskonzerte der Spirit-Tour von Depeche Mode 2018.


2017 hat die britische Synthie-Pop-Band Depeche Mode ihr 14. Studioalbum "Spirit" veröffentlicht. Mit Songs wie "Where's the Revolution?" oder "Going Backwards" werden die Songs von Dave Gahan, Martin Gore und Andrew Fletcher politischer, doch bleiben sie ihre Linie treu.

Die Global Spirit Tour begeisterte von 2017 bis 2018 über drei Millionen Fans weltweit in 115 Shows. Der Abschluss der Konzerttournee wurde am 23. und 25. Juli 2018 in der Berliner Waldbühne zu brühend heißen Temperaturen und einer gespenstisch schönen Atmosphäre zelebriert. "Spirit in the Forest" ist eine Anspielung auf den englischen Namen der Berliner Waldbühne – Forest Stage.