MALIBU EXPRESS (KMG-Night)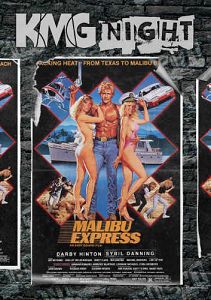 | | |
| --- | --- |
| Original Titel | Malibu Express |
| Dauer | 105 |
| Zutritt | 16 J |
| Cast | Darby Hinton, Sybil Danning, Art Metrano |
| Regie | Andy Sidaris |
| Genre | Action, BestWorst |
| Produktion | 1985 Etats-Unis |
| Verleih | AGFA, Kultmoviegang |
Kultmoviegang Nights
Andy Sidaris' Start in die "Bullets, Bombs and Babes"-Reihe ist ein veritabler Miniklassiker des Schundfilms: Eine blödsinnige, völlig überfrachtete Handlung trifft auf darstellerische Ausfälle und unspektakuläre Action. Und doch: In seiner selbstironischen Schwachsinnigkeit und seiner Freude am Zitat ist "Malibu Express" grandios amüsanter B-Movie.
"Malibu Express" bietet sich auch direkt als etwas schlüpfrigere Variante von damals aktuellen Action- und Krimiserien wie "Miami Vice" und "Magnum" an. Vor allem an letztere Serie erinnert Protagonist Cody Abilene (Darby Hinton), der mit seinem Sportwagen, seiner Hemdenwahl und seinem Schnauzer schon optisch die Billigvariante von Thomas Magnum sein könnte.

"Malibu Express" ist ein wildes Gemisch aus verschiedenen Storyfäden und Motiven, das sich auch fleißig durch die Popkultur zitiert bzw. räubert. Und nachdem wir an einer "KMG-Night" bereits den nicht minder grandiosen "Hard Ticket To Hawaii" aus der Feder von Andy Sidaris abfeierten, freuen wir uns 2020 besonders auf seinen "Malibu Express".